Michele Marcoux/Farrukh Addnan
January 2022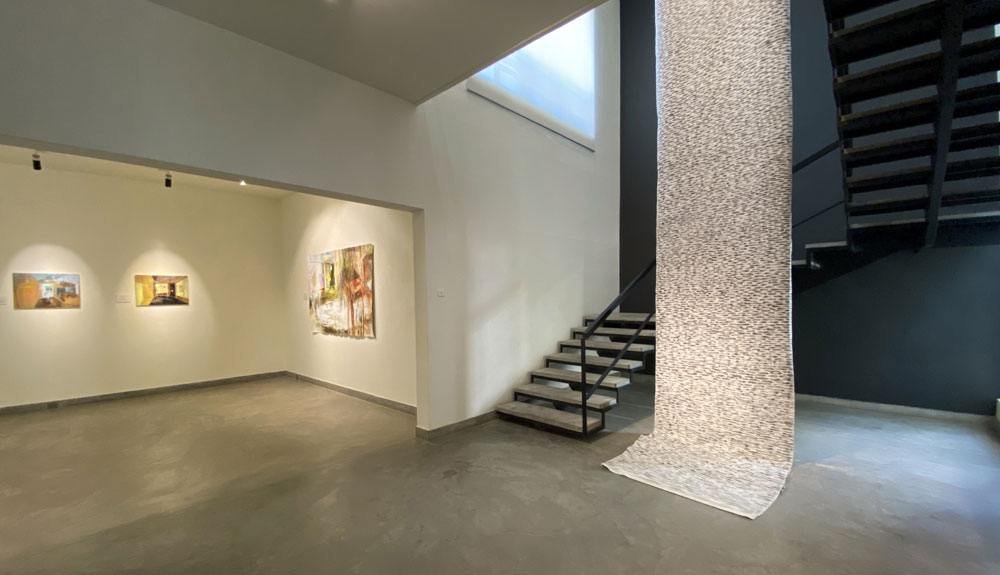 Your Portfolio Archive currently has no entries. You can start creating them on your dashboard.
Ecologies of Displacement an exhibition of work from myself and Pakistani artist Farrukh Addnan, took place at Koel Gallery, Karachi, Pakistan in January 2022. The exhibition was the outcome of Ecologies of Displacement a nine month international visual arts residency hosted by Koel Gallery, a leading art gallery in Pakistan, and Summerhall, Scotland with support from British Council and Creative Scotland.
One of nine recipients of a Connect and Collaborate grant Ecologies of Displacement was conceived and curated by Sana Bilgrami, a Pakistani-Scottish filmmaker and lecturer at Edinburgh Napier University. In August 2022 Farrukh (and the exhibition) will come to Summerhall in Edinburgh.
CURATORIAL NOTE Sana Bilgrami – Every person has experienced some form of being displaced or exiled from a place or time. We are left with a palimpsest of fragmented memories and physical archival traces. And at unexpected moments, the disjointed and often surprising experience of an ineffable transcendental space that visually, sensorially, emotionally or spiritually connects the past to the present moment. This is the aftermath of displacement.
Despite the contrasting geographical and cultural landscapes of their origins, they share a mutual search for connections, through dreams, memories and symbolic representations, to the locus of their childhoods. Reaching across boundaries, bound by the global currents of pandemic and climate catastrophe, artists Michele Marcoux and Farrukh Addnan have collaborated, experimented and grown their practice to create bodies of work on the urgent and evocative theme of 'Ecologies of Displacement'.
EDINBURGH-BASED ARTIST MICHELE MARCOUX grew up in the multi-cultural industrial city of Cleveland, Ohio on the Great Lakes, USA.
LAHORE BASED ARTIST FARRUKH ADDNAN grew up in Tulamba, a rural Punjabi village situated on an ancient and neglected archaeological site in Pakistan.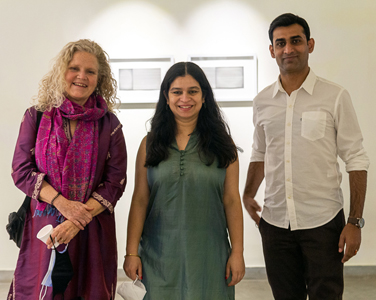 Your Portfolio Archive currently has no entries. You can start creating them on your dashboard.
MICHELE'S WORK vibrantly creates confluences where historical events and deeply personal memories joist with each other to create a space that explores the contours of nostalgia. She uses broadsheet and tabloid newspapers, chronicles of significant and trivial stories, as an archival base for a collage of layered memories as she recreates the domestic spaces of a childhood Ohio house. Amidst her formative memories, she alludes to catastrophic events in the 1960s such as the fire on Cuyahoga River in Ohio that woke USA to the impending climate crisis, and the war in Vietnam. She uses moving images to evoke multiple dystopian layers of cultural nostalgia and the female experience of motherhood and ageing, through a lens of performance, voice and folksong.
FARRUKH METICULOUSLY MAPS the dissonance of his present urban experience in Lahore while reaching back to a stillness activated by intangible memories from his childhood spent playing in the rubble of ancient ruins in Tulamba. These rural spaces were gradually encroached upon by makeshift houses for settlers from nearby expanding towns. Farrukh observes the same patterns of land encroachment in Lahore. He studies how structures form on empty spaces, where uneven sounds of construction and development vie with the resilience of the elements, of clouds, rivers, water. Using architectural drafting pen, wasli paper, canvas, ink, and a repetitive, meditative movement of lines, he captures the discord of sound and the rhythms of silence.
MANY THANKS to Sana Bilgrami and Farrukh Addnan and to Koel Gallery Director Noorjehan Bilgrami.
Also many thanks to the fantastic Koel team: Gallery Manager, Azmeena Alladin Gallery Assistants, Ahad Iqbal and Ahsan Riaz Masih, and Graphic Designer Ayza Nadeem