Michele Marcoux/Farrukh Addnan
August 2022
"Reaching across boundaries, bound by the global currents of pandemic and climate catastrophe, artists Michele Marcoux and Farrukh Addnan have collaborated, experimented and grown their practices for the past nine months to create bodies of work on the urgent and evocative theme of "Ecologies of Displacement"
Sana Bilgrami, curator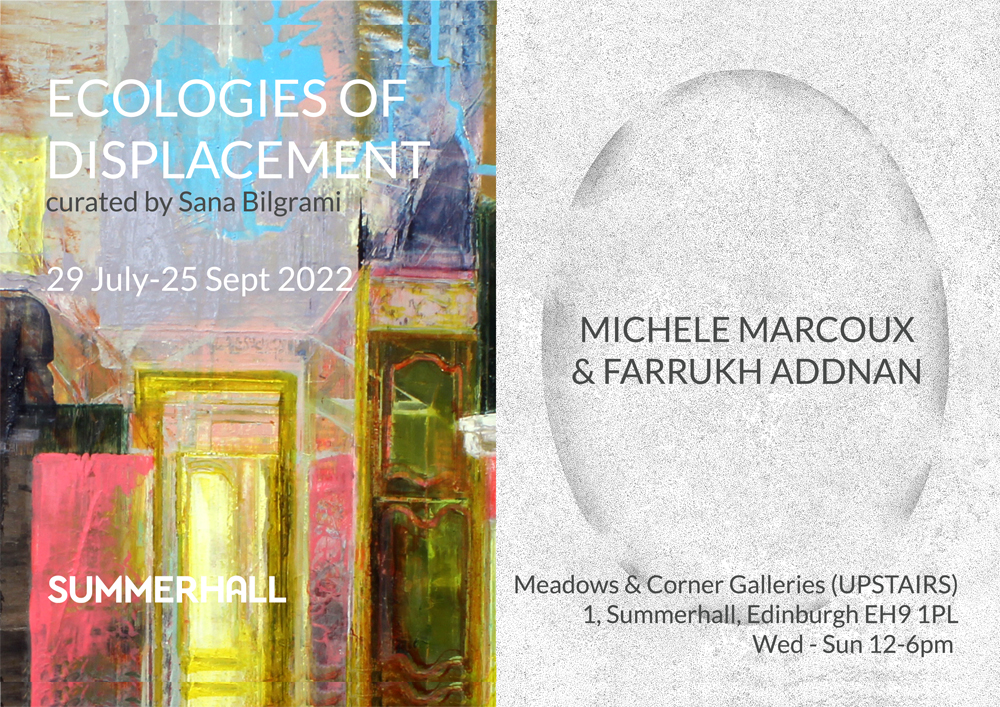 ECOLOGIES OF DISPLACEMENT
Michele Marcoux – Farrukh Addnan
curated by Sana Bilgrami
SUMMERHALL: Meadows & Corner Galleries (UPSTAIRS)
29th July – 25th Sept

JOIN US!: Artists' Talk Sun Sept 11th 2-3pm, The Anatomy Room, Summerhall followed by a gallery tour.
Farrukh Addnan and Michele Marcoux in conversation with curator Sana Bilgrami
—‐———————
Reaching across vast and vivid boundaries artists MICHELE MARCOUX and FARRUKH ADDNAN collaborate to address urgent and evocative themes of exile and displacement.
Lahore-based artist, Farrukh Addnan, grew up in Tulamba, a Punjabi village situated on an archaeological site in Pakistan. Edinburgh-based artist, Michele Marcoux, grew up in the culturally diverse industrial city of Cleveland, Ohio, USA. Reaching across vast and vivid boundaries, bound by the global currents of pandemic and climate catastrophe, both artists address the urgent theme of 'Ecologies of Displacement'.
Separated by the geographical constraints of a global pandemic, Farrukh and Michele met regularly via Zoom to develop Ecologies of Displacement. Though different in form, each artist's work reflects a mutual search for connections through dreams, memories and symbolic representation in the midst of a disjointed world.
Conceived by Pakistani-Scottish filmmaker Sana Bilgrami Ecologies of Displacement is the outcome of an international residency hosted by Koel Gallery in Karachi and Summerhall in Edinburgh and was supported through a British Council/Creative Scotland 'Connect and Collaborate' grant.
In January Michele travelled to Pakistan where she and Farrukh exhibited Ecologies of Displacement at Koel Gallery in Karachi. In September we will welcome Farrukh to Scotland for the exhibition at Summerhall.