33 YEARS AGO this summer, I moved from the USA to Scotland. I'd met and married my Scottish husband in NYC, but we'd had increasing difficulty with American Immigration that had dragged on for two years. In the time of Ronald Reagan and George Bush, nothing was easy. We finally decided to give up our legal fight, and left our bohemian urban life in the East Village and Williamsburg, Brooklyn for Glenisla in Perthshire. As happens when you're young, I was excited to be going on a Scottish adventure, but didn't think it was that big a deal, I assumed I would be back. In the end, I didn't go back and made my life in Scotland.
THIS WEEK I received the last of the belongings I had left with my parents when I got on the plane in 1990, During Covid, my mom sold her house and everything left from my childhood and 20's went into a storage unit in Connecticut. It all finally arrived in Scotland last Thursday, travelling three weeks by container ship.
I have spent this week opening boxes, each one absolutely stuffed full of memories. Its been very emotional to realise that #home is now no longer a place but something in the ether. And of course, now completely, our flat in Edinburgh.
While unpacking, my brother messaged me from the USA "I guess this means you are staying? :)"
Back in 1990, unemployed, married twenty-somethings COULD emigrate to the UK. If this hadnt been the case, I don't know what we would have done. Now, you need to be earning over £28k to come to the UK even if you are married to a UK citizen.
For many people who migrate, 'identity', 'place', 'home', shift, feel transitory. There is an odd sense of parallel lives, of being displaced in time. My creative practice often draws on this experience.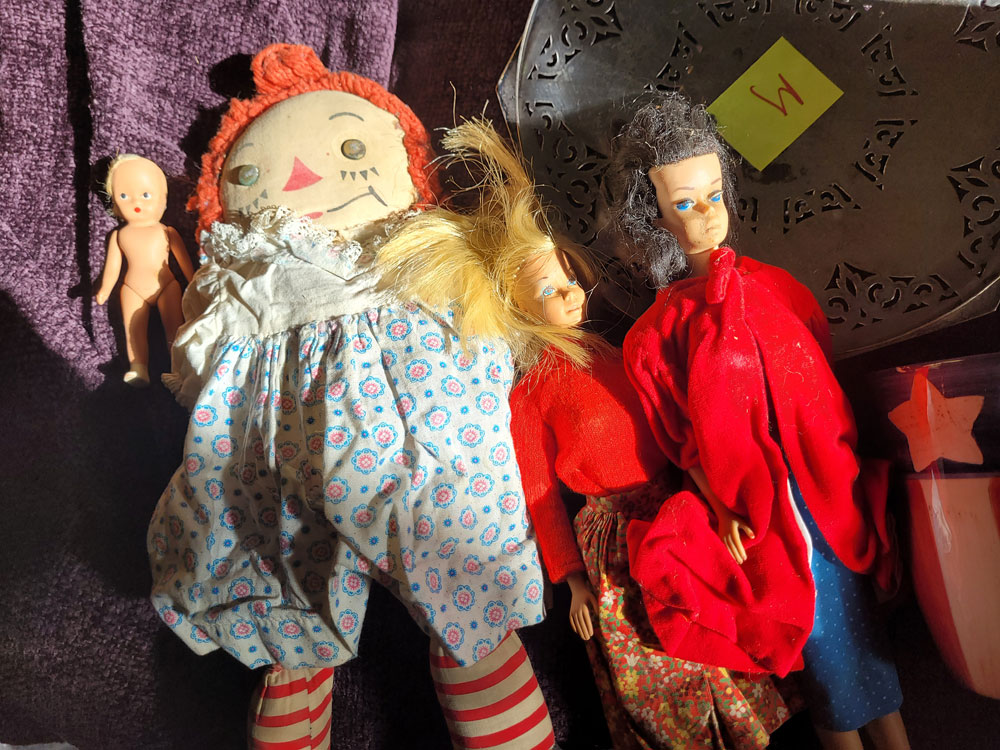 And I ask myself, how did I get here?
IN 1990 pre-internet, pre-cheap phone calls, pre-cheap air travel, travelling to live in another country meant a severing with the past, with place, with family in a way that many people today probably cant imagine. We wrote letters, spoke on the phone at Christmas, or on birthdays, saved up for a flight home hopefully once a year. The opportunity to embrace something completely new and unknown was the excitement of travel but also the challenge.
When I met my Scottish husband at a party in 1987 at an East Village homestead on 13th street and Ave B (these were also known as a squats) I had been in New York for 3 years. Originally from Cleveland, Ohio I had lived in the city for a year in 1980 and had come back after finishing my degree and living in California for a time.
LET US dispense with any ideas formed from watching Sex in the City that there was or is an affordable Manhattan (or Brooklyn for that matter) available to creative freelancers in cool designer gear. New York City in the 1980's & 90's was a hard place with skyrocketing rents, seriously high crime rates, and real danger in some neighbourhoods (including mine in Williamsburg). In 1987, over 1500 people were murdered in the city. Apartment robberies were common. When I left NYC in 1990 the various apartments I had lived in had been robbed 4 times, my broken down Plymouth Horizon had had its windows broken and been robbed twice. We took the battery out every night so that it wouldn't get stolen. Apartments were small and generally in poor condition, with roaches and mice. The squats on 13th Street (there were at least two abandoned tenement buildings taken over by homesteaders) had little running water and electricity. The occupation was a reaction to the increasing gentrification throughout the city. I had been priced out of Manhattan in 1985 and moved to Williamsburg which was still affordable, just. When my friend Lynne and I signed our lease late in 1985 (at night, after just viewing the flat and under pressure that it would be taken by someone else) we had no idea where we were, where the train was or what kind of neighbourhood we were in. As two young women, living alone and knowing no one locally this was a big deal. We were lucky to find that we were close to the L train. It took a while to get the measure of the neighbourhood but in the end it seemed ok to us. I later learned there was huge gang activity in Southside Williamsburg but amazingly we were able to steer clear of it. We were pretty much the only Anglo girls in the neighbourhood, Spanish (or Korean) was spoken in most shops. Our neighbours were sceptical and not altogether welcoming. I reckon we were viewed as the thin edge of the gentrification wedge, which of course, we were.
From Brooklyn to a sheep farm in Angus
When my husband and I finally moved to Scotland, first staying with his parents and then renting a cottage on a sheep farm, the culture shock for me was total. I went from living in a 24/7 mass of urban humanity to a tiny unheated cottage in a field in Scotland. The median age of the neighbours was 50. But I was warmly welcomed and fully embraced by my husband's family and I embraced it as an exciting experience.
– Still life, 1978, done first year, Bennington College
– The movers arrive!-chair from our house. A quilt my mom found in a charity shop in Ohio
– Raggedy Ann, Barbies, wee Bridget. My cowboy hat
– Saying goodbye, my Dad and me.- self-portrait, the Saltire my Dad always flew when the 'Scots' were home
– my drawing of my baby son Drew, a gift for my dad's 60th
-the back of my 1978 drawing
-my favourite mug