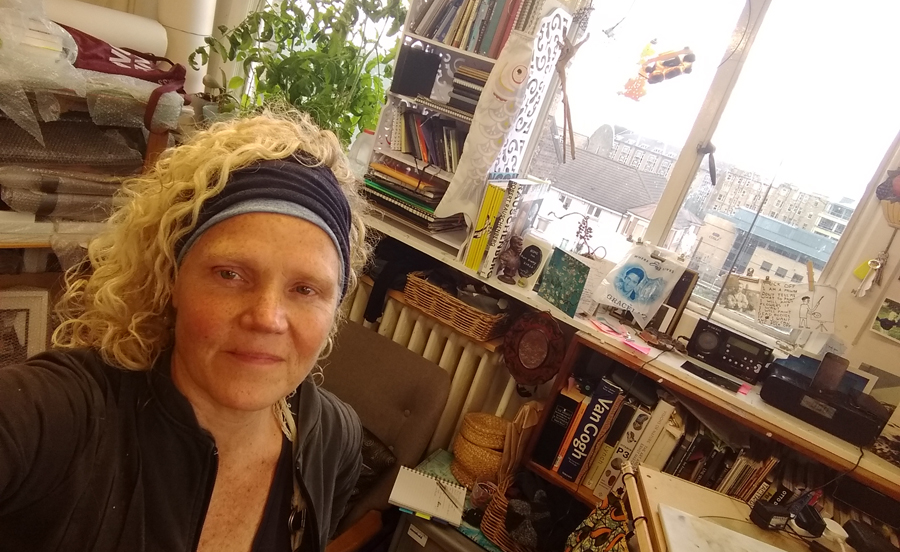 Michele Marcoux is an artist working across a range of media to explore the fragmentary nature of memory, perception, and identity. She grew up as an identical twin in North Eastern Ohio and lived in New York City and California before moving to Scotland. As for many people who migrate, 'place', 'identity', 'home' are not constants but shifting, transitory, even transferable. An engagement with 'home' 'memory' and 'place,' Michele's practice explores our experience of time and change.
Michele studied Fine Art at Bennington College in Vermont, completing two Field Work Terms one with Cleveland, Ohio based artist Ginna Brand and one with New York City Artist Nell Blaine.  She completed her BA in Fine Art (cum laude) at the University of Pennsylvania in Philadelphia. In 2016 Michele completed a Masters of Letters Fine Art Practice (with Distinction) at Glasgow School of Art. 
After finishing her degree Michele lived in New York City, an exciting (and dangerous) place in the 1980's. Living in Tribeca, Harlem, the Lower East Side and Southside Williamsburg, Brooklyn she was involved in the DIY art scene there. Like most artists Michele has always worked to support her creative practice and amongst other things was a waitress, book binder, wood finisher, plant maintenance person and painter of wildlife figurines. While in New York City she also created a line of bespoke jewellery constructed from paper and resin which sold across the USA (including at Barney's New York and Macy's department store) as well as in Puerto Rico and Japan.
In the 1990's Michele left New York City to live on a sheep farm in Angus in Scotland where she continued to paint and sell jewellery at craft and trade shows across the UK. After having two children she retrained as a Web Designer and Web Producer before becoming an Account Director at web agencies in Edinburgh and London where she was responsible for accounts with William Grant, Unilever and Channel 4. In 2006 she joined Edinburgh Napier University as Online Marketing Manager of Screen Academy Scotland, a collaboration between Edinburgh Napier and Edinburgh College of Art delivering postgraduate filmmaking.
Alongside employment, Michele continued to work and exhibit as an artist, and raise two children.
In 2010 in a collaboration with award winning Disability Poet Sheila Black. Michele created and produced Continental Drift a exhibition of painting, drawing, installation, poetry and performance at Patriothall Gallery, Edinburgh. The exhibition produced an illustrated book of poetry, Continental Drift and a collection of Floating Poems as well as performances of the poem Continental Drift by the Actor's Kitchen.
In 2013 working with Sheila Black and NY based sound artist Lynne Thermann, Michele created and produced the exhibition blood/MarcyAV at the Ambulance Depot in Edinburgh. Encompassing installation, painting, drawing, poetry and moving image the exhibition was the result of a two year exchange between the artists across Texas, New York and Scotland called Nostalgia/Analgesic. blood/MarcyAV looked at the artists' experiences as young women in 1980′s Williamsburg, Brooklyn a time when drugs were rife and crime rates soared (in 1988 more than 2000 people were murdered in New York City). Poetry written by Sheila Black for the exhibition appears in her book Wen Kroy published by Dream Horse Press. Meteorology a work by Michele Marcoux is featured on the cover of Wen Kroy.
In 2014 Michele was invited by Paul Robertson then curator of Summerhall, Edinburgh to create new work for Summerhall's Lower Church Gallery. The resulting exhibition Hag-ridden explored female identity as a form of haunting. With reference to female archetypes from Hitchcock's Vertigo, Italian Giallo horror film, Shirley Jackson and Henry James, Hag-ridden took place across five spaces in the Lower Church Gallery and incorporated installation, painting, drawing moving image and sound.
In 2015 Michele was selected to create Fan of Memory/Profane Illuminations, a site specific installation for the Hidden Door Festival in Edinburgh. Combining imagery from 1970's porn and advertising and using moving image and collage on reclaimed windows Fan of Memory deconstructed ideas of femininity. Michele worked with Professor Haftor Medboe and Graham Coe who created a sound installation for the work.
In 2016 Michele completed a Masters of Letters Fine Art Practice (with Distinction) at Glasgow School of Art. Her Master's degree show, Phantasmagoria, non-place of desire, explored the fitting room as a place of desire and dislocation and included textiles, found objects, painting and drawing. While at GSA Michele was selected to take part in Raiding the Past a group residency with GSA and The Royal College of Art, Den Hague at Hospitalfield House in Arbroath, Scotland. She also did a residency at Dimplex Studios at Dumfries House, Ayrshire, Scotland supported by The Royal Drawing School and Glasgow School of Art
In 2017-18 Michele developed a new project GYRE, an interrogation of found objects – hundreds of PET plastic balloons – that she recovered and collected for an 8 year period from the same open ocean beach on Block Island, Rhode Island in the USA. GYRE was exhibited as part of Pint of Science Festival at the Glasgow Trades Hall (2017), at Edinburgh College of Art Tent Gallery (2018) and at Reuse, Reinvent, Reimagine a exhibition of 10 Scottish based artists at Gallery 23 for the Edinburgh Fringe (2018)
In 2019 Michele was selected as one of 6 international artists to participate in the residency Taking Time/Prendendo Tempo, facilitated by The Museum of Loss and Renewal in Collemacchia, Italy. She was accepted onto the residency for the purpose of researching and developing new work for her project Casser Maison.
Michele continues to exhibit work in group exhibitions in Scotland and London including recent ones in 2020 at the Royal Scottish Academy in Edinburgh and Studio 1.1 in London.