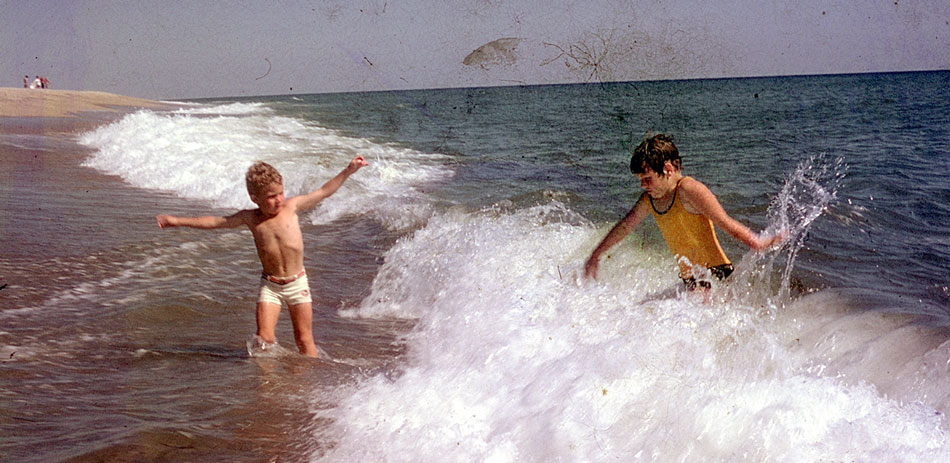 What can we know and how do we know it? How does the trace, memory, relic of one thing morph into another and form a path that we follow?
This seems particularly urgent questions in light of women's history—so much of which exists in the fragmentary form of memory and story. These are questions that we (visual artist Michele Marcoux and poet Sheila Black) explored during a year long collaboration called Continental Drift resulted in an exhibition of poetry and artwork in March 2010 at Patriot Hall Gallery in Edinburgh. An illustrated monograph Continental Drift was also produced and the long poem Continental Drift was performed by the Actors' Kitchen.
The starting point for me was a box of slides from a 1968 family holiday that I found in a drawer in 2008. Having never seen the pictures before (or not remembering that I had) the pictures evoked an overwhelming searching kind of nostalgia. Who were these people, what was their story, what happened to them next. The fact that 'these people' were my parents, brothers and sister, myself, didn't alter the fact that they seemed like strangers.
Sheila and I used a method of collaboration involving a to-and-fro flow of text and artworks—a kind of call and response process—in which neither of us "illustrated" the other's work, but rather used the other's processes as a trigger to generate increased associative, visual, and rhetorical connections. Through this process we developed both poetry and visual work including an exhibition and long poem called Continental Drift and a series of short poems called The floating poems.

Floating poems and text pieces.